See on Scoop.it – Eye on concepts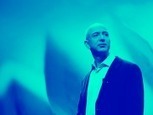 Obey the two pizza rule and other ways to plan for the future, as inspired by Amazon's CEO.
If you want to know about Amazon CEO Jeff Bezos' obsession with longevity, all you have to do is read up about his side projects. You could check out his super-secretive aerospace company, Blue Origin. Or you could look in the Sierra Diablo Mountain Range in Texas, where Bezos is carving out a hole in one of the mountainsides to build a 10,000-year clock using $42 million of his own money.
See on 99u.com